Rooms
All rooms have air conditioning, ceiling fans, queen-size beds, cozy comforters, and soft cotton sheets. Wireless high-speed internet access is available throughout the house.
Avi and Warren's rooms share a bathroom. Since Covid, only one of the rooms will be rented so that the bathroom is not shared and the room thus has a private bathroom. The rate for Avi or Warren's room with a private bath is $145.
If a family or friends want to reserve both rooms the rate is $130 per room.
Reservations will only be accepted by fully vaccinated guests.
Rates
Joshua's room: $160. Avi and Warren's rooms: $130 each if shared, and $145 if the other room is not rented to insure a private bathroom. Rates do not include state and local taxes and are higher for graduation and special weekends. Rates are for double occupancy and include a full vegetarian breakfast. There is an additional $20 per night charge for a third person in a room.
Joshua's Room $160
Private bath with skylight and view of the barn, yard, garden, and surrounding hills.
Avi's Room $130 or $145
Double windows look over the garden with marvelous views of the sunset. *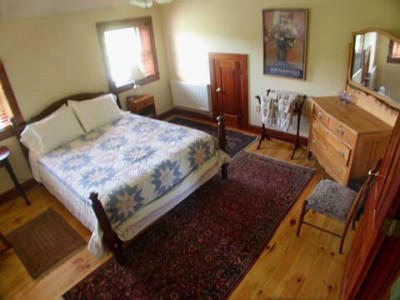 Warren's Room $130 or $145
Nooks and angles characterize this charming room with views of the fields and pines.*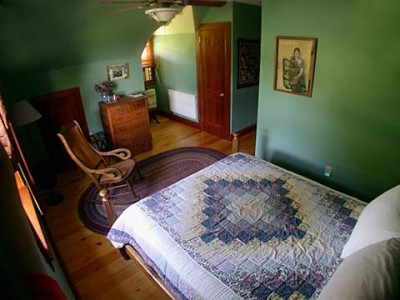 Policies
There is a 2 night minimum requirement for a reservation. Reservations are confirmed with one night's deposit by check in advance. Balance is due upon arrival. Two weeks notice needed for cancellation and refund. If less than 2 weeks notice, refund will be given if the rooms are rented. No refunds on graduation dates or special college weekends. No children under 8 unless by arrangement. Check in time 3pm or later. Check out time 11am. Smoke free. No pets.